Penola Catholic College is a co-educational secondary school with a mission to cater for the spiritual, educational and formative needs of young men and women who seek the Catholic values of the College.
The College's traditions, values and educational philosophy and inspired by the example of Saint Mary of the Cross MacKillop, who inspired by her readings of Jesus of the Gospels, ministered through education and social services to those in need.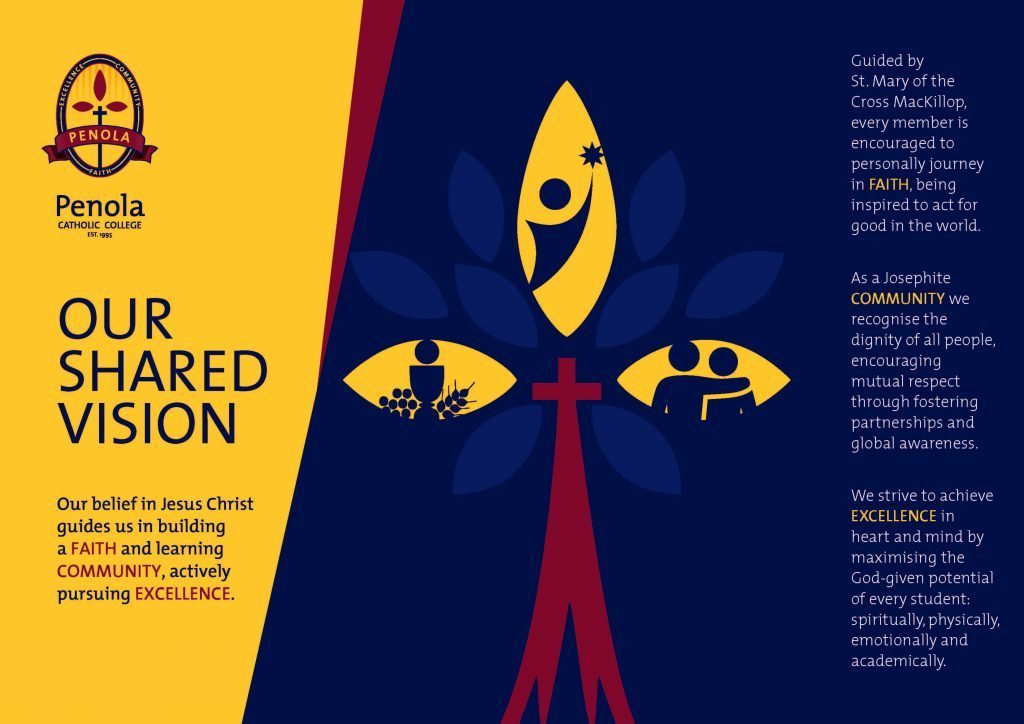 Guiding Quotation 2022
"Let us show this love in our acts, bearing with one another, forgiving and forgetting" - St Mary MacKillop, 1890
"Let us show this love in our acts, bearing with one another, forgiving and forgetting."
(St Mary Of the Cross MacKillop, 1890)
This year, our College theme, "Let us show this love in our acts, bearing with one another, forgiving and forgetting", which St Mary said in 1890, is extremely powerful and linked closely to our College Value of Community. By showing a Christ-like love in our acts, by bearing with one another during difficult or tense times and being truly willing to fully forgive each other for our indiscretions or wrong doings, we can enliven our sense of Community, recognising the dignity of all and ensuring we are building mutual respect for all.
This theme urges us to act with love towards each other. It is calling us to show respect, courtesy, care, kindness and support in all our relationships and daily dealings with one another. St Mary also reminds us here that we need to bear with each other and that there will be times when we might feel annoyed or let down by our family, colleagues or peers; or that we may just seem to clash with some others at work or school; or that we might not necessarily agree with a friend's point of view or behaviour. When these moments occur, we need to be patient, tolerant and compassionate towards one another. We need to stick tight and not give up on each other. It is interesting that Mary also highlights in her words, "… forgiving and forgetting." Often, we are willing to forgive but we can't actually forget. True forgiveness actually involves this difficult aspect of forgetting and letting it go completely and being able to move forward in renewed and strengthened relationships.
St Mary was a living and very active example of her beautiful words to us all. She actioned her love, dedicating her life to God and the Church and striving to ensure the dignity of those in most need. At crucial times, when some of the other Sisters would let her down, she was able to bear with them to ensure the cohesiveness of their Order was maintained. "I excuse you and with all a mother's heart, I forgive you. And as I freely forgive and wish to forget, so do I entreat you my dearly loved ones, to forgive from your heart any Sister who has pained you" (St Mary of the Cross MacKillop, 1890). She also forgave willingly, the Bishops and the Priest who mistreated her and played major parts in her ex-communication from the Church. "I forgive him. I forgive all who had any part in these matters" (St Mary of the Cross MacKillop, 1871).

College Banner 2022
Our 2022 College Banner depicts a collaboration of hands releasing acts of love throughout our College community, which has been inspired by the words of St Mary of the Cross MacKillop. The hands are different in size, shape and colour indicating that individually, we are each called to share in the collaborative spirit, to work together and empower the spread of God's love.
Morphed into the College Crest is St Mary, who is focused on the highlighted value of Community. This signals to us that not only is the Charism of St Mary and the Sisters of St Joseph central in shaping the values of our College community but that the value of community is also a central focus of her Charism. As such, we hope our banner will remind us daily of the challenge that St Mary has set for us this year.