Penola Catholic College is a co-educational secondary school with a mission to cater for the spiritual, educational and formative needs of young men and women who seek the Catholic values of the College.
The College's traditions, values and educational philosophy and inspired by the example of Saint Mary of the Cross MacKillop, who inspired by her readings of Jesus of the Gospels, ministered through education and social services to those in need.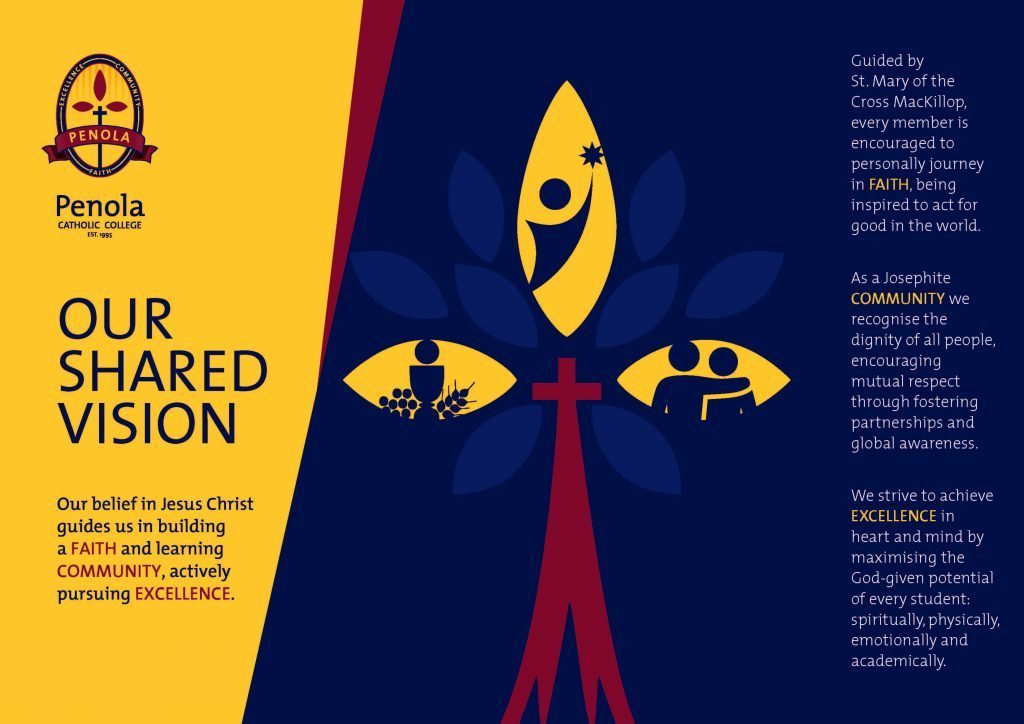 Guiding Quotation 2021
"Work on with constancy and courage" – St Mary of the Cross MacKillop, 1876.

2021 College Theme

Our 2021 College theme, "Work on with Constancy and Courage", which St Mary of the Cross MacKillop said in 1876, is linked closely to our College Value of Excellence. We strive to achieve EXCELLENCE in heart and mind by maximising our God given potential: spiritually, physically, emotionally and academically.
Through these words, "Work on with Constancy and courage", St Mary of the Cross MacKillop urges us to utilise the many gifts and talents (our potential) from God to the fullest in everything we do. For example - We need to work at our relationships with our families and friends and with teachers and classmates. We need to work at our studies in order to excel and we need to work at our passions such as sport, music or the arts. The key point here, is that to achieve Excellence in any area of our life, we need to work at it, it takes effort. And this needs to be a constant effort, one that we commit to and work at every single day.
St Mary of the Cross also tells us that such work will take courage. There is no doubt, that along the way, we will face obstacles and challenges, or feel like giving up or taking the easy or cruisy road. But we must stay brave, show some guts and determination and work on despite the negatives that we may encounter. Mary tells us to stick to our convictions, persevere with our goals because God is always present with us, and no matter how difficult our work may seem, God will provide the energy and the potential in all of us to succeed. However, potential doesn't guarantee success. Our part then, if we wish to succeed, is to actually use the potential God gives us and not give up, but to stick at it and keep working as hard as we can.
St Mary is a living example of her words. Mary faced many difficult times in her life, including the death of family members, ex-communication, a split from Fr Julian who was her mentor, and very serious illness. Yet, Mary's faith and trust in God enabled her to work on to the best of her ability regardless. In fact, the greater obstacle, the more determined and dedicated she became to her vision and work.
Our 2021 College Banner
When explaining this quote, "Work on with constancy and courage", many people utilise the Japanese image of the blossoming plum tree in the snow because the Japanese say, "… the plum is for courage because it puts forth blossoms while the snow is still on the ground". In other words, even in the coldest of seasons, the plum tree has the strength to persevere and bloom through, even when all other plants and trees are dying off. Therefore, in our Theme Banner this year, we have depicted our own version of this. The image of the green shoot, sprouting amongst the ashes in the aftermath of a typical Australian bushfire, is symbolic of the fact that despite the difficulties humanity faces or creation faces, God will not abandon us, in fact, God's love is constantly present generating new life; giving us the courage and energy to persevere and not give up. It clearly reminds us, that no matter the struggle that we face, God has given each of us our green shoots of potential, we just need to show the same courage and determination to ensure our potential grows.