The red curtain is finally up at Penola! After a year of cancelled live performances and heavy restrictions placed on performing artists, our Dance, Drama, Music and Instrumental Music Programs are all back, face-to-face and sharing their love for the Performing Arts. Our Performing Arts building is finally alive again with the buzz of musicians, dancers and actors, and we couldn't be happier!
As always, it is a busy start to the year in the Performing Arts. Here is a snapshot of what the Performing Arts Department have been working on:
College Production
Term 1 began with auditions for our College Production of Fame Jnr. Students from the junior and senior campus auditioned for the school show and rehearsals swiftly started the week after. We have a tremendously talented cast this year and their drive and passion for performing and musical theatre is admirable. They make each rehearsal fun, energetic and engaging!
Instrumental Music Lessons
Students and Instrumental Music Tutors were keen to get straight back into face-to-face instrumental music lessons this year, particularly after last year's lockdown. We are very fortunate at Penola to have a dynamic and passionate team of instrumental music tutors who make lessons fun and engaging. Students are currently preparing for College and Community performances as well as VCE and AMEB examinations.
Music Ensembles
Our Junior and Senior Voices, Rock Bands and Concert Bands are all back rehearsing in person. Our Music Ensembles are all busily preparing for Performing Arts Camp and our new concert - Performing Arts Variety Night this term. New members to these ensembles are always welcome to join at any time of the year.
'Rock Band Week' Lunchtime Performances
In Term 1, we introduced a week dedicated to Senior Rock Band lunchtime performances. These performances will take place in the final week of every school term. We had our inaugural lunchtime performances last term in the Performing Arts Quadrangle, and we were absolutely overwhelmed with the number of students that came to support our senior rock bands. All Rock Bands performed marvellously and really put on a show!
Rock Concert – Rebound '21
On Wednesday 28 April, two of our senior rock bands performed at the Hume Central College Rebound '21, a rock concert for local secondary schools. We are very proud of our rock bands that represented the College – Year 9 Band 'Black Tsunami' consisting of Ella Di Nuzzo (vocals), Sienna Giddings (guitar), Seth Walton (guitar), Bhavana Santhoshkumar (bass) and Matthew Collings (drumkit) and VCE Rock Band 'Antim' consisting of Emily Collings (vocals and guitar), Jonathon Nicolazzo (guitar), Spencer Adams (bass) and Kai Betros (drum kit). Both rock bands performed superbly to an audience of 400, plus with an extra 150 watching the event via livestream. We look forward to many more performance opportunities this year.
Instrumental Music Program Enrolment
It is never too late to learn a musical instrument! Students can join the Instrumental music program at any time of the year by submitting an Enrolment Form which can be collected from the Music Noticeboard at both campuses. We have limited spots available for some instruments, so please submit your forms asap to avoid disappointment. The instruments on offer are: Piano, Keyboard, Voice, Violin, Viola, Cello, Acoustic Guitar, Electric Guitar, Bass Guitar, Trumpet, Trombone, French Horn, Tuba, Flute, Clarinet, Alto Saxophone, Tenor Saxophone and Baritone Saxophone.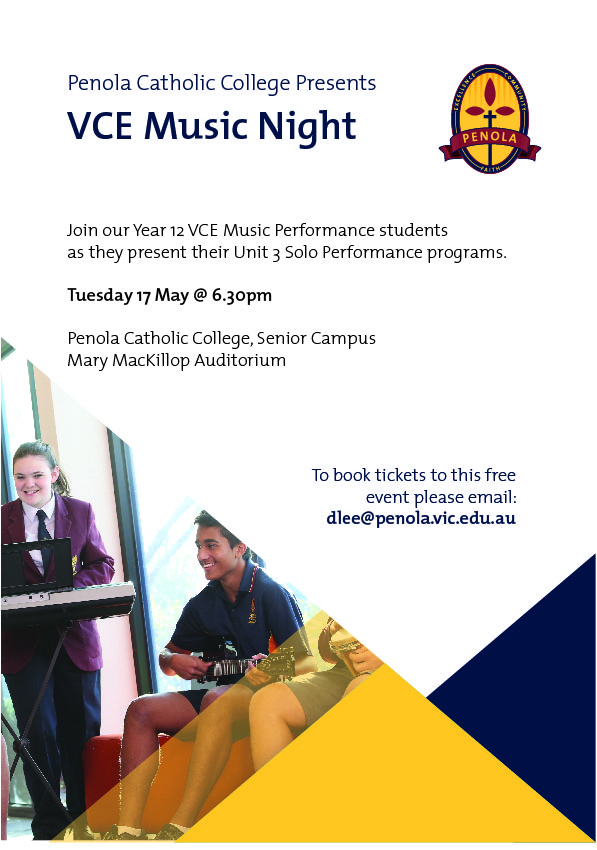 Term 2 Performing Arts Dates
VCE Music Night: Tuesday 18 May, Mary MacKillop Auditorium @ 5.30pm. This is a free, but ticketed event for contact tracing purposes.
Please book tickets in advance by contacting dlee@penola.vic.edu.au
Performing Arts Camp: Friday 21 to Sunday 23 May
Performing Arts Variety Night: Wednesday 26 May, Mary MacKillop Auditorium @ 6.30pm
Rock Band Lunchtime Performances: Week 10 Lunchtimes
College Production - Fame Jnr: Tickets will go on sale very soon! Please keep a look out for our promotional poster in the upcoming College Newsletter for more details.
We look forward to seeing you at our performances!
Mrs Ramona Arney
Head of Performing Arts/Instrumental Music Coordinator