1. What do you remember about your time at the college?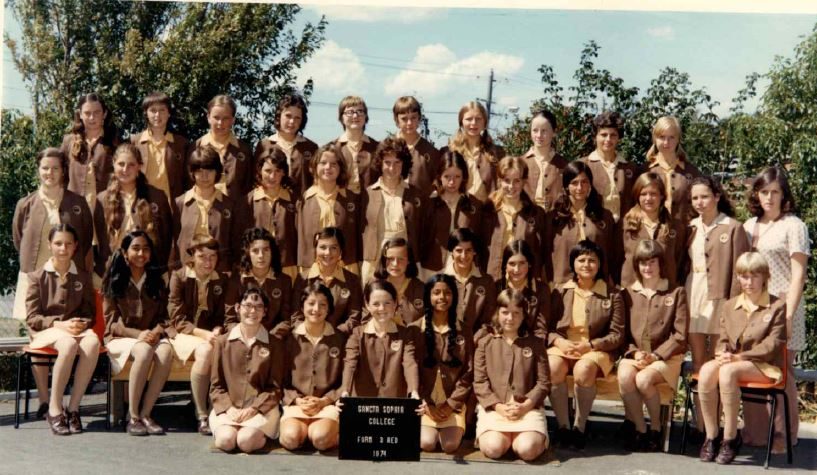 Sancta Sophia
Class of 1972 was challenging and exciting at the same time. Only one friend from primary school followed me to Sancta Sophia but we fitted into school life like a glove. Sancta was very welcoming. I went to both Sancta and Geogeghan so I have many memories that have been planted in my heart, one of them was that I was fortunate enough to form friendships that are still in my life today. Of course, there are some friends that move on but growing up there's a chemistry of heartfelt caring for the friends that grow with you throughout adult life. I remember that I joined the choir with Mrs Ten Dam as my teacher, a colourful character that kept us on our toes, she had a certain way to make you feel special by being a part of a group. I know I don't have a musical tune in my body but she made me feel that I had something to sing for. Music makes me feel happy and being a part of the choir made it special. To this day I belt those tunes loud enough so that I can sing along and not hear how "out of tune" my voice can be!
Geogeghan College
My Stenography (typing and shorthand) classes were memorable. Our room is now demolished but it was adjacent to where the Yr 12's is now. We had 2 double lessons during the week and I loved the vibe in the classroom. Mrs Virginia Krummins was a great teacher, I have fond memories of the fun times we had in her class. Friday afternoon classes were the best as we would have our class outside the classroom facing the southern oval on warm days it was memorable. I also remember starting to write in my diary in shorthand but as I look back at the diaries now, I kick myself for not understanding what I wrote for I have forgotten it all.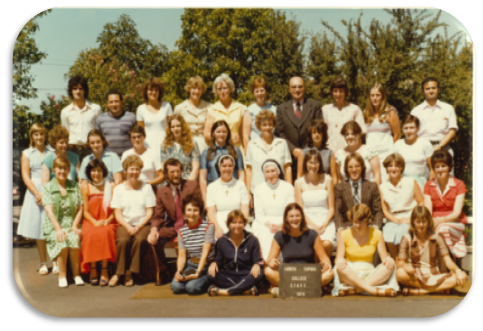 2. Did you have a career plan in high school?
I've always wanted to teach when I was in Secondary School but when I finished Form 6 (Year 12) I tried my luck in getting into Teachers College but they were only accepting a few students that were doing a course like me called SYC (Sixth Year Certificate) unfortunately I wasn't successful, life can throw curveballs, but it was meant to be because when I returned home from a banking interview a few days later I received a phone call from the principal of Sancta Sophia asking me to come for an interview there. I was stoked. The principal from Sancta Sophia, Sr Joan, had rung the principal of Geogeghan College, Fr Shortis, asking who he would recommend to work alongside Judith Azzopardi in the office, he suggested me, I guess it was because I was working every Wednesday afternoons in the Careers office (during my free study) for 2 hours at Geogeghan.

3. What were the significant milestones of your time at high school?
Penola didn't exist prior to 1995 so from the day Penola was 'born' it was a special and sad time for me. Special because that Sancta Therry and Geogeghan Colleges were going to be a part of a new co-educational school and sad because it was an end of an era for the 3 schools. But I'm happy to be a part of history in the making.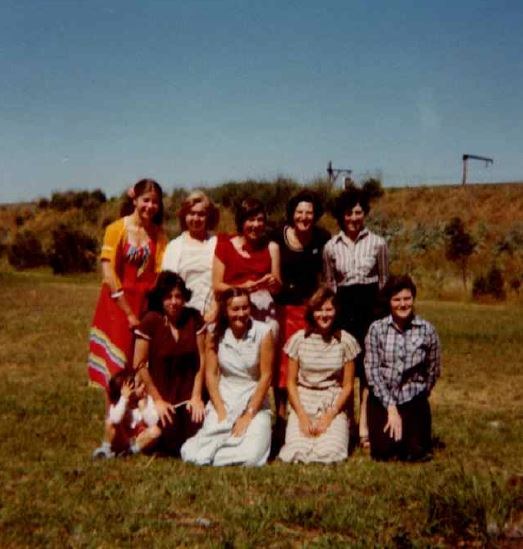 4. Do you have any words of wisdom for our current students?
"Life is what happens to you while you're busy making other plans" Lyrics from Beautiful Boy by John Lennon.
Always look at life with a positive attitude and if things get you down, look at them from a different perspective. Don't take life too seriously, look out for your dreams and go for it. There will be dodgeballs but that's life, walk around them, and walk through them, be present and be happy. We have one life, make the most of what you have within. Enjoy life.

5. Where are you now?
And so, I started my Career path working at Sancta Sophia until the amalgamation of the 3 schools (Sancta Therry and Geoghegan) in 1995, then continued on working for Penola. It was strange working with teachers that taught me and calling them by their first name, but I got used to it.
Since 1978 I have always worked in Admin at the Glenroy Campus Office for 25 years and after that I started at the Broadmeadows Campus Accounts Office and then I'm currently working in the ERC on both Campuses. During this time, I got married, had 2 daughters and now a proud grandmother of 3.
I feel happy to be working with a bunch a great workmates. I also have the privilege in working beside one of my close friends here at Penola that also went to school at Sancta. Words cannot express how grateful I am working here at Penola after all these years, walking along the corridors both at Glenroy Campus and Broadmeadows Campus gives me a sense of pride to walk amongst students and staff. People come and go and that's ok, it's the memories you make that stay for ever in your heart. I'm so blessed to be part of a caring Penola community. Penola is my home away from home.