Year 7 Enrolments 2024
A reminder to all of our existing families that Year 7 enrolments for 2024 close on Friday, 19 August. A number of families applied after the close of enrolment last year and it makes it very difficult to accurately plan for the following year, so I ask that you submit your enrolment as soon as possible. Often families assume that we know that there is a younger sibling but I would be very disappointed if one of our existing families missed out on an enrolment due to not submitting their enrolment in a timely manner.
Mary MacKillop Day
St Mary MacKillop is Australia's first saint and patron saint of Penola Catholic College. This year we celebrate St Mary MacKillop Day on Monday, 8 August 2022 which is the anniversary of Mary's death on 8 August 1909. Much has been planned for the day and it is the first time in three years that we will all be physically together. It provides us with a chance to celebrate our collective Josephite charism and spirit here at Penola. This is done through a mass at the beginning of the day and then a range of activities including our Little Long Walk celebrating aboriginal reconciliation and a whole range of rides and activities whilst raising money for our respective year level charities.
I am looking forward to St Mary MacKillop Day and hope that it is both successful and rewarding for all. A reminder that all students are expected to attend and be involved in the activities on the day. When you sign up for a place at Penola there are a range of different things that you are required to do as a result. Involvement in whole school activities such as our masses and St Mary MacKillop Day is a non-negotiable. Years 7-10 students are expected to wear their Sports uniform and the Years 11 & 12 students can come in casual clothes.
Masks
We are seeing a high number of cases of COVID-19, flu and other winter illnesses across Victoria.
To keep our school safe and reduce transmission of COVID-19 and other winter illnesses, we have put a range of measures in place based on health advice from the Australian and Victorian governments.
These include vaccination for eligible cohorts, ventilation of indoor spaces and a range of COVIDSafe measures including air purifiers, regular use of hand sanitizer and increased use of outdoor spaces.
Our governing authority Melbourne Archdiocese Catholic Schools (MACS) has asked that all students aged eight and over and all staff wear masks when in class from now until the end of winter.
This decision was not made lightly and was based on the best available evidence and in the interests of keeping students as safe as possible.
We have strong evidence that mask wearing works – as COVID-19 cases increased dramatically in Victorian Catholic schools in the weeks following the removal of mask mandates in February.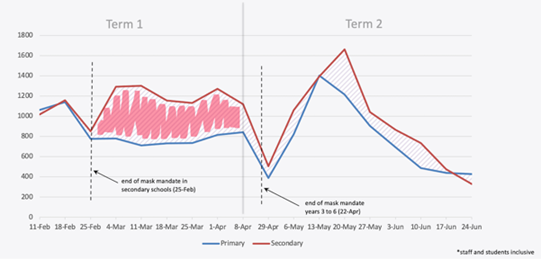 Your support in encouraging your child or children to wear a mask whilst indoors at school is greatly appreciated. Masks will be enforced for large indoor gatherings such as our Feast Day mass to protect all within our community.
Parent Engagement in Learning
There is a significant amount of research that indicates the greater the level of parent engagement in learning, the better the student results. Research from John Hattie suggests that when the effect size of effective teachers is complemented with the effect size of engaged parents, the resulting effect size is above 0.8 or two-years' achievement in one. This suggests that when parents and teachers work together the achievement of all students is greater. Parent participation can be seen as a continuum from involvement to engagement to empowerment.
Parental involvement

Parental Engagement

Parent Empowerment

Attendance at School Events

Fundraising

Volunteer opportunities such as working in the canteen, class reading etc.

Focused on learning

Especially in the home

Building capacity – skills, attitudes and beliefs

Parent Leadership

Increasing parents' social capital through working in collaborative groups
Our statistics taken from our College website indicate that less than 30% of families open the newsletter every fortnight. The following strategies are suggested to increase parent engagement.
Authoritative Parenting – a balance between love and warmth and setting boundaries.
Know the value of education – parents model the behaviours of successful lifelong learners to their children
Have high expectations and aspirations – parents hold high expectations for their children, communicate a belief in their potential to achieve and discuss their child's educational and career aspirations.
Family-led learning in the home – linking schoolwork with current events, discussing learning strategies with your child and making connections between their current effort and achievement of future goals of employment or further study.
Becoming engaged and staying engaged throughout their schooling – regular talk about school and the value of learning throughout schooling, particularly at transition points.
Family-school communication – schooling is relationship based and requires quality two-way communication and meaningful dialogue between home and school.
JJAMM Week
The week beginning Monday, 1 August 2022 was JJAMM (Julian, Joseph and Mary MacKillop) Week, an important and fun week in our College calendar. It is the week that we take time to honour Fr Julian Tenison Woods, St Joseph and, most importantly, we celebrate the Feast Day of Mary MacKillop. There were many fun activities throughout the week and I am very grateful to all who have been involved. Money raised during the week will be donated to the various year level charities. My thanks to all involved with the week, particularly the Year Level Coordinators and Penola Student Council representatives.
Year 12 Interviews
Over the past fortnight I have been conducting interviews with Year 12 students. I asked our Year 12 teachers to nominate 2 groups of students from their classes.
Students who are applying themselves diligently to their studies.
Students who are capable of more than what they are currently producing.
With the first group of students, those working diligently, I am congratulating them and asking how they study best for the subject that they have been nominated for. I then ask for any other tips on how they study in other subjects and finally I ask for the advice that they would like to give their parents. For the second group of students, I am asking whether there is anything preventing them from applying themselves more and giving them some of the strategies that have been suggested by their peers who are working diligently.
With regards to advice for parents, students suggested
Trust that we are doing our best and keeping up to date with homework and study.
Offer support and talk with your son or daughter about school.
Asking too regularly whether their homework has been done can be stressful.
Encourage your son or daughter to do their best.
Allow space to work quietly and keep younger siblings away during busy study times.
Keep doing what you are already doing? (Most common response)
Parent Teacher Student Interviews
Our Parent Teacher Student interviews will take place on Thursday, 11 August via TEAMS for both campuses. I hope to see many of you booked into these interviews to continue to build on our relationship. Education is a three-way partnership between the school, the students and families. Penola is implementing a system to notify parents when a subject teacher has requested an interview.
With semester one reports not far behind us, parents are often asking the best way to assist secondary age students with their study. At times (particularly in Years 10-12) the courses are fairly difficult and demanding and parents are not always able to help directly with the content or answers that students are grappling with. However, there are many ways that parents can support students as they prepare for tests and other types of assessment. Perhaps the most helpful is to assist with a structure or method for studying. This ensures that students are not just sitting staring at textbooks or doing their work in front of the TV.
Is the semester one report still in a prominent place and referred to regularly in order to assist with setting semester two learning goals? There is significant research to indicate that the higher the level of parent engagement in their child's learning, the better the outcomes for these students. I am keen to hear from parents if there are ways that we can assist you in being engaged in the learning process. If you have any suggestions, please contact me via phone or email principal@penola.vic.edu.au
Prayer for the Feast of the Assumption of Mary
Next Monday, 15 August 2022 will be the Feast of the Assumption. I have included a prayer for the Assumption of Mary
Woman of Listening,
Mary, woman of listening, open our ears;
Grant us to know how to listen to the word of Jesus among the thousands of words in this world;
Grant that we may listen to the reality in which we live, to every person that we encounter,
Especially those who are poor, in need, in hardship.
Mary, woman of decision, illuminate our mind and our heart, so that we may follow the word of your son Jesus;
Mary, woman of action, obtain that our hands and feet move "with haste" towards others.
To bring them the charity and love of your son Jesus, to bring the light of the Gospel to the world, as you did.
Amen