Condolences
On behalf of Penola Catholic College, I extend our condolences to the Blight family (Evan 7A) on the passing of Marty Blight from COVID-19. Our thoughts and prayers are with Evan, Rebecca and extended family.

COVID-19 Cases
I am currently aware of 13 of our families where a member of their family has been diagnosed with COVID-19. Please keep these families in your prayers. Please let me know if you or a family member has been diagnosed with COVID-19 so that we can provide the best support possible for your family.

Year 12 Priority Access to Vaccines
To help support the safe conduct of end-of-year exams, the Victorian Government has announced a vaccination blitz for final year students (all Victorian Certificate of Education (VCE) Units 3/4 students, final year Victorian Certificate of Applied Learning (VCAL) and International Baccalaureate (IB) students), their teachers and exam supervisors and assessors.
From Tuesday, 7 September and until Friday, 17 September, final year students, their teachers and VCE exam supervisors and assessors will have access to priority timeslots to attend their vaccination appointment at a vaccination centre.
Dedicated appointment booking hotline
The hotline number is 1800 434 144. The hotline will operate from 8 am to 8 pm.
Year 12 students will be able to book from 8 am Monday 6 September.
Other Unit 3/4 students can book from 8 am Wednesday 8 September.
Ineligible staff and students will not be able to make a booking using this booking process. I encourage all final year students, their teachers and VCE exam supervisors and assessors to make an appointment, as this will help keep them and our community safe and support the safe conduct of the VCE examinations later this year.

Planning Permit approved for VCE Building
We received excellent news late last week that our planning permit for our new VCE Building has been approved. This building will provide 18 classrooms, Careers Area, Year 12 Common Room, and staff areas as well as a gathering space for 300 students. The next step is approval from MACS Planning, Buildings and Finance Group and hopefully going to tender in late October/ early November.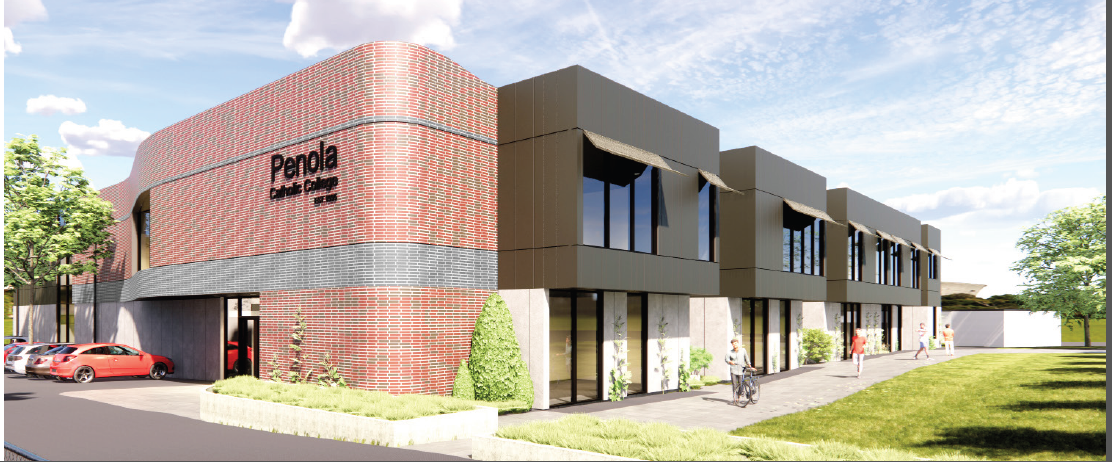 Year 12 Trial Exams
Given the extended lockdown we have made the decision to postpone Year 12 Trial Exams that were scheduled for the second week of the upcoming holidays. At this stage many staff are yet to complete Unit 4 content and it would be unfair to attempt the trial exams until all of the coursework has been taught. In all likelihood, we will utilise this time for either final assessments or additional classes depending on the conditions at the time. The trial exams will be conducted in the first few weeks of Term 4 in the current double lessons in each class when we are hopefully back to face-to-face learning.
I ave listed below the schedule for Year 12 SACs that will be conducted in the second week of the holidays.
MONDAY 27

TUESDAY 28

WEDNESDAY 29

THURSDAY 30

FRIDAY 1

10:00am – 12:30pm
Food Studies

1:00pm – 3:00pm
Specialist Maths

12:00pm – 1:10pm
Further Maths – Geometry SAC

3:00pm – 4:10pm
Further Maths – Matrices SAC

9:30am – 10:30am
Japanese Oral practice

1:00pm – 3:00pm
Maths Methods

10:00am – 12:30/1pm
Italian Oral practice

11:00am – 12:40pm
Business Management

1:25pm – 2:15pm
Legal Studies (Part A)
Year 12 Graduation
In light of current COVID-19 restrictions it seems quite unlikely that 1000 people are going to be able to gather collectively to celebrate our Graduation Mass and Graduation Dinner. As such we have come up with alternatives so that we can formally recognise this significant milestone for our current Year 12 students. The Graduation will take place on Thursday, 18 November once Year 12 exams have concluded. In essence we are planning to conduct some form of liturgy and graduation ceremony for each homeroom which will be livestreamed to enable peers, staff, and our wider community to be involved in the process. Obviously, it will be in line with any restrictions that are in place at that particular time to ensure the safety of all involved. We have a number of different plans depending upon the restrictions that are in place at that particular time.
Parent Teacher Student Partnership Meetings
The final round of Parent Teacher Student Partnership Meetings will take place on Thursday, 7 October via Microsoft Teams. I hope that you will find these informative and that teaching staff are able to highlight the areas where your child is doing well as well as areas for future improvement. This opportunity, scheduled at this time especially for students, reflects the key stage in the academic year for students. We hope the evening will provide an opportunity for dialogue for families that enables there to be every opportunity for success for our students between now and the end of their academic year. At this stage regardless of any proposed return to face to face teaching, this day students will be working remotely to enable staff time for these interviews to take place. The interviews will run from 3.00p.m. and conclude at 6.30p.m.
NAPLAN Results
As parents of Years 7 & 9 students would be aware, students received a printout of their NAPLAN results this week. Whilst they are only a snapshot of each student's level of achievement and an indication of how they have performed at a particular point in time, they do provide us, as a school, with valuable comparisons against the State and National performance. One of the best measures for our school is to look at the growth from Years 7 – 9 as it gives an indication as to whether we are progressing at the same rate as the rest of the state. I have listed these results below for our community to view and make their own interpretations. A score of +4 indicates that our growth was 4 points better than the state whereas a score of -4 indicates that we were 4 points behind the state in terms of growth.
| | | | | | | |
| --- | --- | --- | --- | --- | --- | --- |
| | Reading | Writing | Spelling | Grammar & Punctuation | Numeracy | As or better than State |
| 2019-2021 | -8 | -10 | -8 | 0 | 0 | 2 |
| 2018-2020 | | | | | | |
| 2017-2019 | -4 | -26 | -5 | +8 | +4 | 2 |
| 2016 - 2018 | -7 | +14 | 0 | +2 | -4 | 3 |
| 2015 -2017 | +4 | 0 | +1 | -2 | +5 | 4 |
| 2014 -2016 | -2 | +10 | -2 | -5 | 0 | 2 |
| 2013 - 2015 | -9 | +1 | -10 | -6 | -7 | 1 |
| 2012 - 2014 | +2 | +15 | -9 | -6 | -14 | 2 |
| 2011 - 2013 | -4 | +4 | -2 | -2 | -5 | 1 |
| 2010 - 2012 | -2 | +11 | -5 | -3 | -8 | 1 |
| 2009 - 2011 | +2 | +19 | -5 | +6 | -5 | 3 |

Professor John Hattie conducted some analysis of the most recent NAPLAN results which indicated that Victoria still led the nation in terms of NAPLAN results despite prolonged periods of lockdown and significant disruption to schooling. The study showed that "somewhat surprisingly our analysis found no significant differences between 2019 and 2020 in student achievement growth as measured by progressive achievement tests in mathematics or reading", with the study also noting "these findings are a testament to the dedicated work of teachers during the 2020 pandemic to ensure that learning for most students was not compromised, despite unusually trying circumstances". However, in what has been a common observation across the school sector, the effects were slightly more negative in lower SES schools.
Year 7 Enrolments 2023
A reminder to all of our existing families that Year 7 enrolments for 2023 closed on Friday, 20 August. A number of families applied after the close of enrolment last year and it makes it very difficult to accurately plan for the following year, so I ask that you submit your enrolment as soon as possible. Often families assume that we know that there is a younger sibling, but I would be very disappointed if one of our existing families missed out on an enrolment due to not submitting their enrolment in a timely manner.
Grade Prep enrolments in our Catholic Feeder Primary schools
One of the strengths that we have as a regional Catholic secondary school is the great relationship that we have with our feeder Primary Parish schools. We meet each term just to discuss what is happening in each of our respective schools. At our meeting last week, a number of my colleague Principals indicated that prep enrolments for 2022 had been slow and I said that I would place a reminder in our Newsletter as we share the same families. I have listed below the contact details for each of our Catholic Primary Schools:
Corpus Christi Primary School Glenroy – 03 9306 3062
Holy Child Primary School Dallas – 03 9309 1620
School of the Good Shepherd, Gladstone Park 03 9338 7686
St Carlo Borromeo, Greenvale 03 9333 2572
St Dominic's Primary School, Broadmeadows 03 9309 4146
St Fidelis Primary School, Pascoe Vale 03 9383 3600
St Francis de Sales Primary School, Oak Park 03 9306 9444
St Matthews Primary School, Fawkner North 03 9359 5423
St Marks Primary School, Fawkner 03 8335 4100
St Thomas More Primary School, Hadfield 03 9312 8200
St Therese Primary School, Essendon 03 9374 6100
St Monicas Primary School, Moonee Ponds 03 9375 1132

On the Twentieth Anniversary of 9/11
We remember, God of history and remembrance, we remember. We remember when the towers fell and the lives were lost; we remember the dust and the smoke, the despair, and the grief. We remember that sense of vulnerability and shock. We remember the numbness that overwhelmed us as we watched our screens for hours and hours, waiting for an explanation and understanding that never came. We remember.
We remember, God of hope and presence, we remember. We remember the heroes, those who rushed to help, who guided the wounded down innumerable flights of stairs, who rose to overwhelm those who held death in their hands. We remember the hours and the days of binding wounds and healing hurts, giving comfort, drying tears. We remember words of support and compassion from nations far and wide. We remember.
We remember in part because we see the ripples of that tragic day continue to impact our world twenty years later. We grieve with allies today as our allies grieved with us twenty years ago. And together we wonder if there will ever be an end . . . to violence, to war, to hatred, to death. We remember and we grieve our world's inability to learn the things that lead to peace.
We call to you now in our remembrance, God of justice and of peace. Give us a will to truly pray that your kingdom may come on earth as it is in heaven. Amen and Amen.
On this day of solemn remembrance:
May we honour the lives that were lost in this tragic act.
May we give thanks for those who served and saved, rendered aid and assistance.
May we give comfort to those who live with loss.
May we seek justice and peace where it is within our ability,
and rely on you when the ability escapes us.
On this day of solemn remembrance:
May we build what has been torn down.
May we mend what has been broken.
May live your love when hate seems to reign.
May we bear witness to the cause of peace.