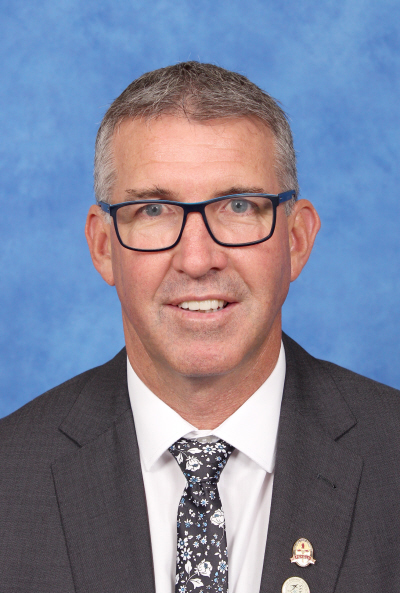 Dear Members of the Penola Catholic College community,
We celebrated ANZAC Day last Sunday, where we commemorate the landing of members of the 1st Australian Imperial Force (AIF) on the shores of the Gallipoli peninsula in Turkey on 25th April 1915. For Australians the day carries enormous and solemn significance because it is the day on which we remember and pray for all those who have died in the service of our country, and we remember also those who served in the defence forces in the very many conflicts and peace-keeping missions in which our country has been involved. We acknowledged ANZAC Day at our respective Campus Assemblies on Friday, 23 April, 2021. We pray for the honoured dead whose sacrifice and memory remain so dear to us.
The Gallipoli campaign was but one chapter in a terrible war that cost millions of lives and was dubbed at its conclusion as "the war to end all wars". We know it today as the First World War, and we are also well aware that many wars and conflicts have since followed. Those who have been to war know full well of it horrors, and upon their return speak mostly of the sacrifices of their comrades and the cause of peace. As we pray for the dead, and all those who were injured or whose lives were deeply affected by war, let us pray also for peace in our world. Let us give thanks for the great privilege of living in land that is relatively peaceful and let us do all that we can to ensure that all people are able to live in freedom and peace.
Staff Changes for Term 2
Welcome to the following staff who have been appointed in the past fortnight.
· Ms Epiphany Tapu joins us for the next term replacing Ms Maree Farah whilst she is on Long Service Leave. Epiphany is a former student and will be teaching Jumpstart, VCAL Personal Development and providing EAL support in a range of classrooms.
· Ms Claire Kennett joins us for the remainder of the year replacing Ms Laura Elliott in teaching VCAL Literacy and VCAL Work related skills.
· Ms Pat Lourantos joins us from Oakleigh College where she has been working with their Enhanced Learning team and will be taking on the role as Student Enhancement Teacher for our VCAL students at Years 11 & 12 in place of Ms Laura Elliott.
· Ms Mansi Sheikhhassani joins us as a Learning Support Officer for 3 days a week at the Glenroy campus replacing Ms Victoria Raqaji who is providing EAL support (to replace Mrs Anita Harding) and working as an LSO all week at Broadmeadows
· Welcome back to Mr Shane Griffin who re-joins us after his surgery last term.
· Welcome back to Ms Nella Dalrymple who is working from Tuesday to Friday in the morning for her first week back at the Glenroy campus as she resumes after her surgery last term.
· Welcome back to Ms Sonia Rocco-Redvers who is resuming tutoring onsite rather than virtually this term.
· Welcome back to Ms Margaret Kostraby.
· Mr James Hajjar is taking Carer's leave for at least the first month of this term and we are in the process of appointing a replacement.
Student Free Day- Friday, 14 May (Remote Learning Day Years 7-12)
We have organised a staff professional development day on Friday, 14 May to look at the Australian curriculum and rigorous forms of assessment. The facilitator for the day will be Bronwyn Ryrie-Jones who is familiar to most of the teaching staff for her work with us in the past on developmental rubrics. We intend on setting the day as a Remote Learning day for our students so that they are left work to complete on MyPenola at home rather than missing the whole day's learning. Teaching staff will obviously not be available on the day as they will be involved with professional development. The set work will be available under the News section on the relevant class pages on MyPenola.
Staff Spirituality Day held on Thursday, 31 March.
Thank you to all staff who participated in our Staff Spirituality Day on the final day of last Term. It was great to have our guest presenters from ACU, Associate Professor Robyn Horner and Dr Teresa Brown to lead us through our exploration of the various Enhancing Catholic School Identity surveys and to help us gain a greater understanding of what they each actually mean in terms of our Catholic School identity. The intention for the day was for every staff member to recognise their role in supporting the Catholic identity of Penola Catholic College. We had some fantastic discussions on the changes we have witnessed within the Catholic Church and more broadly in society over the years and the challenges we face both now and into the future.
Mother's Day Friday, 7 May
This term we will again mark Mother's Day with mass at 7.15am in St Joseph's Chapel at the Broadmeadows campus followed by breakfast in the Assembly and Sports Hall (ASH) from 7.45am. I encourage you to come along, particularly our mothers, as we acknowledge the special contribution that you make to your son or daughter's life. The early morning start has never been a barrier to high levels of engagement and joy from our families. We will be running a bus from the Broadmeadows campus to Glenroy at the conclusion of the activities.
Best wishes to all mothers, grandmothers, and great-grandmothers for a wonderful Mother's Day on Sunday.
NAPLAN Testing
Next week students in years 7 & 9 will participate in the National Assessment Programme – Literacy and Numeracy. This programme is conducted by the Australian Government through its agency, ACARA, the Australian Curriculum Assessment and Reporting Authority. The tests will be held over three days, Tuesday – Thursday,11th – 13th May. The tests provide useful information to students, parents and schools in terms of student capabilities and areas for improvement. Parents who have any queries in relation to the tests are invited to contact Mrs Sandra Warren at the Glenroy campus, or Mrs Vera Treloar at the Broadmeadows campus.
Parent/Teacher/Student Interviews
Our next round of Parent/Teacher/Student interviews take place on Thursday, 27 May from 3.00pm – 8.30pm with a dinner break in this time as well. This will take place via Teams which enables both staff and families to enjoy the interviews within the comfort of their own homes as the winter weather kicks in. I have been heartened by the numbers of parents who have been attending our interviews and taking an active role in the learning of their children. Research indicates that parents who take an active role in their child's education results in significantly better outcomes for these students. Your son or daughter notices whether you attend these interviews, whether you are taking an interest in what they are doing and whether you think learning is important. Parents act as role models in so many areas of a child's life and their beliefs about education and the importance of learning are vital.
Enhancing Catholic School Identity Parent surveys
Parents will receive a letter from Mr Robert Dullard, Deputy Principal-Faith and Mission in the next fortnight explaining how to access this survey where we ask for your own personal views on faith and what you would like to see in your ideal school. We are keen to hear the views of parents with regards to how you currently see the school in terms of our Catholic identity and what your ideal school would look like with regards to Catholic identity. To encourage parents to complete this survey we are providing all parents who complete the survey with the opportunity to go into a draw for $250 to be removed from your family fee account.
Best wishes to all students, staff and families for a successful second term.
All-loving God, we give you thanks and praise for mothers young and old.
We pray for young mothers, who give life and count toes and tend to our every need; May they be blessed with patience and tenderness to care for their families and themselves with great joy.
We pray for our own mothers who have nurtured and cared for us; May they continue to guide us in strong and gentle ways.
We remember mothers who are separated from their children because of war, poverty, or conflict; May they feel the loving embrace of our God who wipes every tear away.
We pray for women who are not mothers but still love and shape us with motherly care and compassion.
We remember mothers. grandmothers, and great-grandmothers who are no longer with us but who live forever in our memory and nourish us with their love. Amen.
God Bless,
Chris Caldow
Principal